By Thomas Hawkins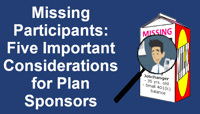 The problem of missing participants in employer-sponsored retirement plans is one of the most important, yet perplexing issues facing plan sponsors, and for good reason.
Ensuring that participants (or their beneficiaries) receive their benefits is the essence of an employer's fiduciary responsibility – and missing or unresponsive participants who become separated from those benefits can generate significant risks for plan fiduciaries.
Recent guidance from the U.S. Department of Labor (DOL) was very helpful in identifying a range of best practices, but did not yield "bright line" rules, leaving many sponsors questioning whether their program would pass muster, if subjected to scrutiny.
Five Important Considerations
Plan sponsors can remain grounded by keeping in mind five important considerations when designing, implementing and administering a program to locate missing participants.
1 - The missing participant problem is not going away.
The problem occurs because the American worker is highly mobile, but their defined contribution balances are not. Consequently, too many participants will strand their retirement savings balances following a career transition, leaving their former employers holding the bag.
In the short term, the COVID-19 pandemic may also serve to increase the incidence of missing participants. Rising job terminations, combined with net migration from urban-to-suburban (or rural) settings may produce a spike in stale addresses.
Finally, pressure from regulatory authorities for plan sponsors to locate missing participants will not cease. Following ERISA mandates, the DOL expects plan fiduciaries to ensure that participants (or their beneficiaries) receive their benefits, while the IRS fully intends to collect taxes on all deferred income as soon as it becomes taxable.
2 - When searching for missing participants, quality matters.
Adopting a "tick the box" mindset and employing the use of incomplete or slipshod search techniques that simply produce a "result" may not be enough to survive regulatory scrutiny.
If you use a commercial locator service, make sure that your provider has thoughtfully and rigorously developed and tested their search processes, with a goal of maximizing reliability – and not simply delivering a result.
Finally, ensure that the plan's policies and procedures are adequately documented, as well as the specific search actions undertaken, as indicated in the DOL's best practices.
3 - Locating missing participants is as much "art" as it is "science."
Understanding both the art and science of locating missing participants is vital.
There is only one true "gold standard" in locating missing participants – an update recently provided directly by a participant. Unfortunately, obtaining direct updates from former employees can be challenging, time-consuming, costly and may not be indicated in all scenarios.
By contrast, any update provided indirectly, without the direct verification of the participant carries the possibility of being inaccurate.
For plan sponsors, the application of sound judgement is required when considering when and how to apply more diligent search methods. The DOL's guidance clearly identifies the presence of "red flags" that can help drive the intensity of search efforts, which can depend upon the "facts and circumstances particular to a plan and participant."
Commercial locator services have recently begun to apply science to advance the art of locating missing participants. A January 2021 study by Retirement Clearinghouse (RCH) found that a proprietary algorithm that queried multiple search databases and constructed an optimized result based upon multiple factors such as a result's recency, frequency and duration could significantly improve the reliability of e-Searches across multiple use cases.
4 - An ounce of prevention is worth a pound of cure.
Problems with stale addresses can occur very quickly, sometimes long before "red flags" appear.
One of the RCH study's key findings was an observed rate of stale addresses about twice expectations for a "high confidence" population, suggesting a hidden incidence of missing participants. Fortunately, the study also found that an e-Search could be effective in delivering a high level of reliable updates for this population.
The takeaway for plan sponsors is that low-cost e-Searches can be highly effective in remediating stale addresses, avoiding more serious missing participant problems down the road.
5 - Adopt a program of retirement savings portability.
To truly solve the problem of missing participants, plan sponsors should embrace retirement savings portability, delivered during career transitions.
This is particularly important as plans embrace auto enrollment, which dramatically increases participation levels, but simultaneously increases the potential for stale addresses. A systemic approach to portability and consolidation can not only facilitate auto enrollment but can mitigate the associated risk of missing participants.
Influential trade organizations, such as the American Benefits Council, clearly grasped this important dynamic in 2017 when they wrote the DOL requesting expanded guidance for locating missing participants:
"Because of changing workforce demographics and the rise of automatic enrollment, an employer's responsibility for dealing with retirement benefits and accounts left behind by former employees has become even more demanding. During career transitions, employees often do not consider how their immediate change in employment will affect their long-term retirement goals. Many employees do not roll over a benefit under a former employer's plan into their new employer's plan. And, many workers neglect to update their contact information on file with a former employer, even if they have a defined benefit plan benefit or defined contribution plan account."
Fortunately, retirement savings portability is now well within the grasp of plan sponsors. Roll-in programs are also highly effective in promoting retirement savings portability for participants with balances not subject to mandatory distribution provisions.
Finally, and most importantly, auto portability has now emerged as a viable means to address the small account problem, and in so doing, greatly minimize the burden of missing participants. Auto portability's widespread adoption, just beginning in 2021, will accelerate.
Staying Focused
By staying focused on some key principles, including the adoption of sound search practices and retirement savings portability, plan sponsors can successfully navigate their near-term missing participant problems, while positioning their plan for far fewer problems in the future.
Back