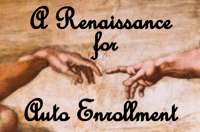 After making great strides following the Pension Protection Act of 2006 (PPA), adoption of auto enrollment has continued to build slowly but steadily in recent years. According to DOL Form 5500 data, by 2021 the feature has been adopted by plan sponsors housing almost 50% of total 401(k) participant accounts.
Now, thanks to two recent developments – including the SECURE 2.0 mandate for new plans and the retirement industry's embrace of auto portability – auto enrollment could enter its final phase of growth, driving higher levels of participation, savings and retirement wealth, with disproportionate benefits accruing to under-saved and under-served workers, including minorities, women and those with lower incomes.
Adoption of Auto Enrollment
There's no denying that auto enrollment has made great strides since 2007, when the Pension Protection Act of 2006 (PPA) granted employers safe harbor to automatically enroll workers into 401(k) plans.
Based on 2021 Form 5500 and 5500-S datasets:
On a plan basis, 18.4% of all reporting 401(k) plans indicated that they had adopted an auto enrollment feature, with 24.6% adoption in larger (>100 participants) plans.
On a participant basis, auto enrollment fares better. 34.8 million, or 49.5% of all 401(k) participant accounts were housed in plans with an auto enrollment feature, with larger plans topping out at 54%.

These figures represent significant improvements over the same measures from 2015, where only 6.9% of 401(k) plans reported an auto enrollment feature, and 39.4% of 401(k) participant accounts resided in those plans.
Overcoming Key Barriers to Adoption
Despite its success, auto enrollment has faced persistent barriers to adoption in high turnover industries, where incomes are lower and the small balance, transient participant accounts that can be generated by auto enrollment can drive increased administrative burdens, costs, and fiduciary risks. Unfortunately, it's also within these industries that the adoption of auto enrollment could deliver the most benefits for under-saved and under-served workers.
Certainly, some barriers to auto enrollment's adoption will be overcome by the new plan mandate, set forth in Section 101 of the SECURE 2.0 Act. Effective for plan years beginning after 12/31/24, new 401(k) and 403(b) plans must meet the requirements for an eligible automatic contribution arrangement (EACA), including auto enrollment. This provision may prove to be a boon for the adoption of auto enrollment in smaller plans, where new business formation occurs more rapidly. However, by itself, the mandate's impact may take more time to be felt in larger organizations.
How Auto Portability Will Drive Growth in Auto Enrollment
In my view, a bigger impetus for the adoption of auto enrollment – particularly in enterprises with high employee turnover – will be the retirement industry's embrace of auto portability, forming the Portability Services Network, an industry-led utility dedicated to accelerating its nationwide adoption and targeted to become operational in 2023.
Auto portability ameliorates auto enrollment's shortcomings by preserving small balance retirement savings left behind, automatically moving them forward following a job change –directly addressing plan sponsors' concerns about a build-up of small accounts.
Solving the small account problem for high-turnover enterprises will make a substantial contribution towards more rapid adoption of auto enrollment, which in turn, will drive dramatically higher minority plan participation and savings levels. Recent studies have found that, where the auto enrollment feature is present, Black participation rises from 35% to 93%, and Hispanic enrollment shifts from 36% to 94%.
This view was shared by Derrick Johnson, President and CEO of the NAACP in his endorsement of auto portability, when he cited the importance of auto enrollment as a "necessary strategy to address racialized inequities within retirement plans" – a strategy which Johnson believes will be enhanced by the adoption of auto portability.
The Game Has Changed
America's 401(k) system has long been bedeviled by two core problems: 1) how to increase participation in retirement plans, driving wealth for under-served and under-saved demographics, while 2) avoiding ever-higher levels of cashout leakage and millions of stranded, small balance retirement savings accounts.