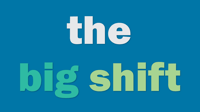 To quote Ferris Bueller: "Life moves pretty fast. If you don't stop and look around once in a while, you could miss it."
For those accustomed to a glacial pace of change in the world of retirement, you could be forgiven if you've missed two very recent, tectonic shifts toward the system-wide adoption of auto portability, the new default plan feature that automatically moves small balance retirement savings forward as participants change employers, saving them time and money, while dramatically reducing cashout leakage.
Here's what's just happened and why the "big shift" towards auto portability is on.
1. Formation of the Portability Services Network (PSN)
In October 2022, three major defined contribution recordkeepers representing approximately 43.8 million workers across more than 48,000 employer-sponsored retirement plans, came together to embrace auto portability, forming an industry-led utility – the Portability Services Network (PSN) – to accelerate its adoption.
That's never happened before. As Robert L. Johnson, Founder and Chairman of The RLJ Companies and Chairman of Retirement Clearinghouse (RCH) stated in a joint press release: "[t]his is truly a historic moment for the industry, as well as our country."
What could motivate fierce competitors to come together in common cause? The recordkeepers recognized that auto portability is a game-changer, stating on the new PSN website: "[w]e firmly believe that advancing and accelerating the adoption of auto portability will strengthen America's defined contribution system, and improve the retirement outcomes of America's under-served and under-saved workers -- especially minorities, women and low-income workers."
For the cynically inclined who believe that the recordkeepers formed PSN for financial gain, think again. Recordkeepers that own and/or participate in PSN receive no compensation for auto portability transactions, and fees to participants are capped at $30, and are expected to decline as more recordkeepers join.
2. SECURE 2.0 Codifies Auto Portability and Broadens Its Potential Reach
Not to be outdone by the private sector, the U.S. Congress also took unprecedented action in passing legislation that codifies auto portability, which represents the first retirement savings legislation specifically aimed at reducing cashout leakage.
Prior to SECURE 2.0, auto portability relied exclusively upon DOL regulation, promulgated through Advisory Opinion 2018-01A and Prohibited Transaction Exemption 2019-02. The exemption would have required renewal by the DOL in 2024 but will instead be replaced by more durable legislation. The force and permanence of legislation dramatically increases confidence in auto portability's staying powers and removes a potential source of uncertainty. The DOL and the Treasury remain in the loop, however, as the DOL is directed to issue certain guidance and studies related to the exemption, and the Treasury has been directed to issue a report regarding the involuntary distribution notices.
Although not directly aimed at auto portability, another SECURE 2.0 provision updates the dollar limits for mandatory distributions, from $5,000 to $7,000, effective December 31, 2023. This should increase the number of auto portability transaction by about 20%, which will allow the PSN to reach scale faster, and ultimately allow the new auto portability network to further reduce transaction fees charged to participants.
More Developments on the Way
As I write this, three major recordkeepers are integrating auto portability and plan to bring the PSN solution online in 2023, targeting an operational launch by the end of the first quarter.
At the same time, the PSN is actively working to expand its reach by encouraging all recordkeepers to join. PSN's framework allows for a maximum of seven "owner members" -- six recordkeepers and Retirement Clearinghouse (RCH) -- and an unlimited number of "member" recordkeepers. Suffice it to say, there is a great deal of interest on the part of recordkeepers.
As existing recordkeepers come online with PSN, new recordkeepers join, and plan sponsors adopt the feature – fully-automated, end-to-end plan transfers will begin to occur, slowly at first, but rapidly picking up pace as the PSN network expands its reach.
The "big shift" won't be completed overnight, but it's already well underway, and will proceed with a pace that could take many more by surprise.